Bay Horses
Criteria >> Colors >> Bay Horses
About: Bay Horse Coats
Bay horses are a variation of Black horses (black gene coding located on MC1R). The Bay gene is called ASIP, and it's controlled by the Agouti locus gene, expressed as A or a.
When a horse is going to be black, the genotype would be E/E or e/E or E/e. From there, the Bay gene determines whether the black or bay color is expressed as the phenotype.
Phenotype Expression of Agouti Locus Gene

EE
Ee or eE
AA
E/

AA

- bay
E/

AA

- bay

A

a or a

A

E/

A

a or E/a

A

- bay
E/

A

a or E/a

A

- bay
aa
E/aa - black
E/aa - black
Bay Warmblood Horses for Sale / Lease
Come to Galway Farm to have a talk with Lorrie Canady, owner and head horse trainer, about your ideal Bay horse. She has over 40 years of experience riding and training horses, making her the perfectly qualified candidate to match you with your ideal riding partner.
Or maybe you'd like the Bay color for breeding purposes, trying to secure access into a certain studbook and your current coat colors aren't allowed. Just as well. We want for both you and the horse to be happy with the pairing. Happy teams, as a general rule, perform much better than teams who bicker at each other or are too stubborn to listen ever. Come to Galway Farm today, and get paired with a trusting riding partner you can grow with.

Don't see what you're looking for? We regularly have NEW ARRIVALS that are not yet on the site -- GIVE US A CALL NOW!

View all horses and ponies for Sale / Lease.
Contact Galway Farm or Lorrie at 847.309.8980 with questions regarding Bay Warmblood horses for Sale.
Photos
Khalasar
Vasco De Gama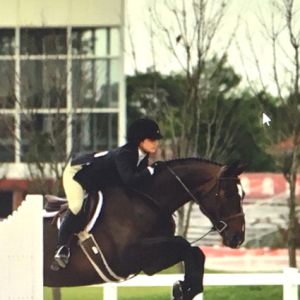 STAY TUNED
Stellar Gamble
---