Grey
About: Grey Horse Coats
STX17 is what they call the gene where the coding for Grey horses is located. For the horse's coat genotype to be expressed as the grey phenotype, the alleles must be dominant at least half the time. If both parents are heterozygous (Gg or gG) for this gene, the offspring has a 75% chance of being born fated to grey, assuming no other genes interfere with this expression.
G

rey Genotype Expression

G
g
G

GG

- grey
g

G

- grey
g

G

g - grey
gg - not grey
Grey Warmblood Horses for Sale / Lease
Galway Farm often has a selection of Grey Warmblood horses to choose from when you decide you want to start reaching for your goals. Many European farms treat their horses poorly and don't care much about the horses' health. We think mistreating these beautiful animals is a crime, and take measure above and beyond the necessary care to make sure the horse is happy and healthy when you come to Galway Farm and pick a horse.

Don't see what you're looking for? We regularly have NEW ARRIVALS that are not yet on the site -- GIVE US A CALL NOW!

View all horses and ponies for Sale / Lease.
Contact Lorrie at 847.309.8980 with questions regarding Grey Warmblood horses for Sale.
Photos
Matinee

Matinee
2002, Warmblood Mare
Super Children's or Adult Hunter. Comfortable, big step, easy jump and extremely forgiving. A great …
Full Bio
Quite Affair

Quite Affair
2006, Warmblood Mare
Has a great deal of jumper show experience and a good record in Europe at 1.30M-1.35M. Has been show…
Full Bio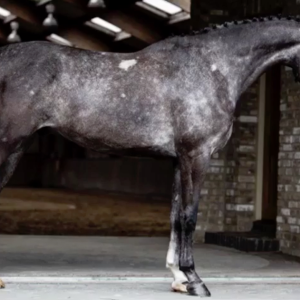 Charly Z

Charly Z
2013, Zangersheide Gelding
Imported in the Autumn of 2018. Beautiful up and coming derby horse! Easy, uncomplicated with a gorg…
Full Bio
---